Born: Paterṇ (CT), 8 January 1977
Height: 1,81m
Weight: 78 kg
Position: Midfielder (left)
Team: AC Milan, Italy
Size: 50
Shoe: 43
CAREER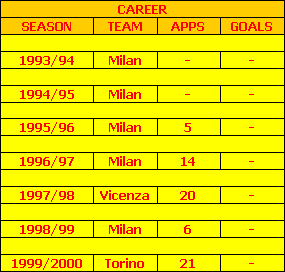 PERSONAL
Francesco Coco is a man who/whose...
| | |
| --- | --- |
| | Loves the film Meet Joe Black starring Brad Pitt, his favorite actor. |
| | Listens to Jim Morrison and Ricky Martin. |
| | Eats pasta, Italy's "national food". His favorite is pasta aglio olio e peperoncino (pasta with garlic oil and chili pepper) and pasta alle melanzane con ricotta salata, which his grandmother makes |
| | Would like to have dinner with Renato Zero and Jennifer Lopez (which he surely must prefer more!) |
| | Favorite TV show is Ciao Darwin. |
| | Favorite football program on TV is Quelli Che Il Calcio in RAI 2, conducted by Fabio Fazio. |
| | Liked to study Italian when he was in school. (It should be easy for him, no?) |
| | Likes the prehistoric era in history. It interests him. |
| | Favorite vacation spot is Los Angeles. |
| | Lucky number is 3. |
| | Bets his money on the Ferrari racing team. |
| | Drives a Jaguar!!! (classy, rich man...) |
| | Owns a Nokia cellular phone. |
According to him, he...
| | |
| --- | --- |
| | Is a prideful man, which he considers as his best quality. |
| | Is also very impulsive, which he thinks is the worst quality. |
| | Has a unique hobby and that is... WOMEN. (whatever he means by that...) |
| | Currently dating a certain someone named Vittoria Sensini. But he is not married nor engaged ... yet! |
| | Lives for the day. |
| | Plays a bit of the piano (thanks to his ex-girlfriend) and sometimes plays tennis. |
| | Plays the PlayStation every night before sleep. (care to challenge him?) |
| | Loves animals, especially dogs. |
| | Would choose Monica Bellucci if given the choice between her and Alessia Marcuzzi. (good on ya', mate! Nice choice...) |
| | Would be a hitchhiker if he hadn't been a footballer. |
In Football...
| | |
| --- | --- |
| | He admires Paolo Maldini. |
In fact, he is supposed playing in Maldini's position - left wing defense. However, since Maldini is still occupying the position, Coco is pushed forward to play in midfield. Perhaps this is more effective because he can give assists for goal to the strikers in Milan and the Azzurri team. The good news is: Coco has been hailed as "the next Maldini". Other than that, he likes Diego Maradona as his absolute idol.
| | |
| --- | --- |
| | He scores his first goals for Milan this season. |
Coco scored Milan's equalizing and opening goal in their first Champions League campaign in the San Siro Stadium against Besiktas, on the 13th of September 2000. After that he scored again against Barcelona on their away match in camp Nou Stadium on the 26th and gave a pass that resulted into goal to Oliver Bierhoff. He will surely be expected to score more in the future.
| | |
| --- | --- |
| | His journey with the seniors begin. |
He used to play with in the U-21 team with the likes of Massimo Ambrosini, Christian Abbiati, Morgan De Sanctis, Gianluca Zambrotta, Gennaro Gattuso and Andrea Pirlo. But now he joins the senior team with Francesco Toldo, Alessandro Nesta, Demetrio Albertini, Stefano Fiore, Francesco Totti, Alessandro Del Piero and Filippo Inzaghi. In his Italy debut against Romania on the 7th of October 2000, he gave a pass to Super Pippo that resulted in a goal. He played as if he had been there for such a long time! Not bad for a debutant!