What kind of name is that?!
Admit it. The name Coco may not sound too appealing at first. Compare it to when you hear names such as Laurentiis, Crescenzo or Mazza… they sound slightly more compelling, don't they? Whereas if you hear, "Ciao, sono Coco. Francesco Coco" you would probably go, like, "Chi? Who? Ha? Coco, as in Coconut or Chocolate?"
Actually, the surname Coco is rather common in Italy. At least, there is another person with the same surname. For one, everyone in our dear Francesco's family has the surname Coco, no? Then there is a sports commentator named Andrea Coco in RAI and the people in his family have the name Coco. And if we explore the whole Italy, there has to be someone else that has that name.
And maybe that's where the magic of the name lies. Because it's funny, because it's cute, because it's unique… we are probably bound to think that someone named Coco is a positively cute and sweet person. Of course, it might not be true (remember, our Coco is an alleged playboy) but there's wishful thinking. Indeed, he doesn't have to prove it with his personality… look at his face! Now, do you call that cute or what?
Or maybe not. Maybe you think Coco's name is just plain ridiculous. Maybe you would like him to have a name that sounds a bit more sophisticated. Maybe you wouldn't want people to think, "What a stupid name!" when they hear his name.
If that is the case, maybe you could check out the other names caro Francesco would fit…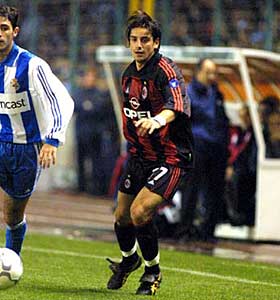 FRANCESCO BATTISTA

FRANCESCO CASTELLINI

FRANCESCO DANIZETTI

FRANCESCO DI AZZANI

FRANCESCO FERRANTE

FRANCESCO INZAGHI

FRANCESCO LAURENTIIS

FRANCESCO NEVIANI

FRANCESCO ORLANDINI

Which one do you like?

Note: all of these names, except Inzaghi, come from Nadia's fictions. Please don't chastise Nadia for putting the name Inzaghi… she just can't help it.