COCO AND NAKAMURA ON JVC COMMERCIAL
A World Cup 2002 Campaign
JVC, the electronic company, who is one of the official sponsors of the upcoming World Cup 2002 tournament in Korea and Japan, features two of the most talented young players in the world in their commercial (CM). One of them is none other than the super Italian rookie Francesco Coco, whose recent transfer from Italy giant's AC Milan to Spain mammoth FC Barcelona caused both sensation and stir. Alongside him is Japan's brightest star at the moment, Shunsuke Nakamura, who was named Japan's Player of the Year in December 2000.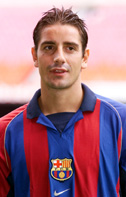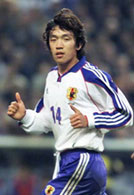 Who Francesco Coco is we already know. It does come as a surprise for us (the webmasters) that his popularity is already big enough for JVC to choose him as their campaign model. Hopefully this JVC commercial indicates that in 2002 Korea, Japan, the rest of Asia and the world, will be able to see him in complete action in the World Cup alongside his national Italian teammates!
We cannot fail to recognize Shunsuke Nakamura either as he is the second star of the JVC commercial. It is only appropriate that Nakamura's 411 is also given because he is no less inferior compared to the hero to which this fan website is dedicated. So we introduce to you this Kanagawa born J-league midfielder who was born on June 24th, 1978. He plays for the Yokohama Marinos, one of J-league's top clubs. Although he is said to have the weakness of dribbling the ball in player jams, which usually finds him in trouble when playing in centre midfield, he is excellent in free kicks, thanks to his left foot, and can send long passes to his teammates. Just like Coco, he has played some good gamesin the left wing side of the field. This player who started playing football at 4 years old has experienced many difficulties in his career as a footballer. However, now we can hope to see him in the World Cup 2002 with the Japan national team. For such a talented youngster that he is, it is not impossible at all!!!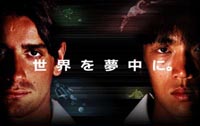 Click on the picture to go to JVC's official
soccer website (in Japanese)
For those who want to see and know more about the CM and these two talented players, you can visit the page in the official site. In this website you will be able to download the CM video (with Quicktime). Just make sure that your browser has a Japanese text display support! Don't worry if you don't read and understand Japanese, you can translate the whole page by using Altavista's Babelfish Translator! It works just fine!
If you are still not keen on seeing Japanese characters, there is always the English version of the website in which you can find football news! Screensavers and wallpapers are available for download as well in this English website!!!
For a general information on everything, including the latest JVC products, go to the Victor-JVC General Site! (in full Japanese)

Meanwhile, the above picture was found on a Saturday (15 September 2001) edition of Indonesia's leading newspaper, KOMPAS. Did any of you in Indonesia see it? Interested in the contest offered by JVC? Who knows, if you win, you can also meet and see live the on-field performance of Signor Coco and Nakamura-san!!!
Written by Dolcissima 18.
Edited by Nadia.
Technical directions by Orange Blossom 7.
This article is written based on resources found on the official JVC website, various sites containing news and stories of Shunsuke Nakamura from Yahoo! Search and personal knowledge.
COMMENTS? SUGGESTIONS? MORE INFO? Contact us!!!