BARCELONA: A New Home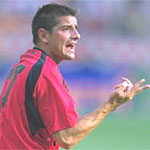 Addio, Milano!!!
It is not a big surprise anymore if we say in this website that Francesco Coco is now no longer playing for the rossonero club of Italy, AC MILAN. He is now officially with one of Spain and Europe's most prestigious clubs, FC BARCELONA. Why he left Milan is still a big mystery although it is generally believed that a problem with Milan's new coach, Fatih Terim, is the cause of his sudden and shocking transfer.
We are not going to dwell on that matter. So he's gone from Milan. So he's with Barcelona. So we have to accept the fact. So we have to move on. Now there are two types of fans - Milan fans and Coco fans. Milan fans condemn his transfer, some calls him a traitor and some blames him on that row with Terim. Coco fans condemn Milan, wondering how in the world could the big club owned by Italy's prime minister Silvio Berlusconi could ever let go such a talented and a native player like Coco to play outside Italy.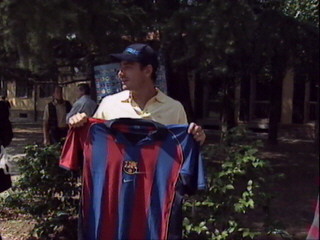 Y bienvenidos a Barcelona, amigo!!!
It is going to be painful to take sides. At one side, there are people who became fans of Coco because they are originally a Milan fan. On the other hand, there are people who became fans of Milan because they are originally a fan of Coco. In this case, we would like to propose: choose a line between and be neutral! Another thing that can be done is look at it from the BRIGHT SIDE!
While pondering on our propositions, which you are free to accept or throw away to the bottom of the earth, consider this... there are actually more advantages for Coco being in Barcelona than the disadvantages. If this were an essay, the outline can be made as follows:
1. Coco gets to play in the Champions League; whereas if in Milan he gets only UEFA CUP action.
2. Coco gets an international experience. This way, he can show the world what he's made of! Playing outside Italy will certainly make him a sophisticated player, who is surely advantageous for the national team, especially when they have to face an international opponent.
3. Coco gets to learn a new language. It's never a bad thing to learn more languages other than your own. We know he speaks sexy Italian... perhaps now he can be even more sensual in Spanish!!!
4. Coco gets to be in the main squad. Although players rotate within a team but somehow Barcelona seemed to be so much in love with Coco that they promised to make him a main player in the team. This is certainly something that we can all look forward to! Whereas in Milan... who knows when Serginho will make way for him!
Don't get us wrong. We are not trying to condemn Milan at all. Although we cry for his departure from Milan, we also need to show the proper support that Coco is supposed to be getting for his achievements. Let's wait and see what happens next.
Article written by Nadia Aimar.
---Note: Nadia's first home is in SPAIN!!! When she returns to her hometown next holiday season, she is going to try to meet him! (---Dolcissima18)